Parade to Begin 3 p.m.On September 16th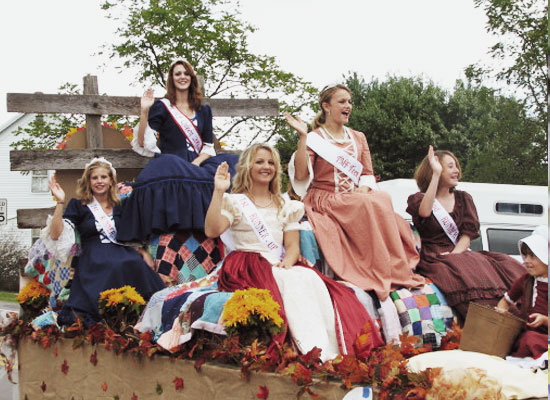 ­­Trophies will be given to first, second and third places in each category. Registration for the parade will begin at 1 p.m. (No Pre-registration) and lineup will begin at 2:00 p.m. at Pendleton County High School parking lot.
Parade participants are reminded to check in with the parade registration booth as soon as they arrive for line up information, and to check with the Festival Headquarters trailer after the parade to pick up any trophy they might have won.
For additional information
EMAIL tmfparade@hotmail.com or call Lori Smith 304-668-8434.
EVERYONE IS WELCOMED WITH THE 
FOLLOWING CLASSES BEING JUDGED.
CLASS 1- TMF THEAMED FLOAT
CLASS 2- PERFORMING GROUP
(DANCING, REENACTORS, TWIRLERS)
CLASS 3 MUSIC GROUP (PRIVATE, MARCHING)
CLASS 4- SINGLE WALKING TMF THEAMED
CLASS 5- GROUP WALKING TMF THEAMED
CLASS 6- WORKING TRACTOR (TRACTORS THAT WORK AND NOTJUST FOR SHOW)
CLASS 7- SHOW TRACTORS (TRACTORS THAT ARE FOR SHOWONLY)
CLASS 8- ANTIQUE TRUCKS (YEARS 1999 AND BACK)
CLASS 9- ANTIQUE CARS (YEARS 1999 AND BACK)
CLASS 10- SINGLE HORSE
CLASS 11- HORSE TEAM
CLASS 12- QUEENS AND COURTS
CLASS 13- FIRE AND EMS (NO SIRENS)
SUPPORT OUR CORPORATE SPONSORS